2023 Awards for Achievement in Public Diplomacy
By Domenick DiPasquale
Excellence in Public Diplomacy Takes Many Forms
Working under wartime conditions in Kyiv to demonstrate continued U.S. support for Ukraine against Russian aggression. Engaging young audiences in Türkiye through video gaming. Orchestrating the bicentennial of diplomatic relations with Mexico. Bringing America to the remote hinterlands of Albania.
The 2023 recipients of the PDCA awards for excellence in public diplomacy have advanced American foreign policy objective though their innovative use of technology, stellar management and leadership skills, outside-the-box thinking, and sheer hard work and perseverance.
The four recipients are:
Public Diplomacy Section, Embassy Kyiv
Onur Dizdar, Cultural Affairs Assistant, Consulate General Istanbul
Monica Sarmiento, Strategic Public Engagement Specialist, Embassy Mexico City
Mobile American Corner Team, Embassy Tirana
"These awards reflect the extraordinary efforts of America's diplomats and their professional staffs to share our country's story and explain the policies and motivations of the United States. Under difficult circumstances and constrained resources, public diplomacy professionals demonstrate creativity and commitment to getting the message out that America is dedicated to the ideals on which our country was founded," noted PDCA co-president Joel Fischman.
Fischman continued: "The men and women we recognize, and the people who nominated them, understand that a consistent and committed engagement with friends and foes alike is necessary to bring about our vision of a peaceful and fair and prosperous world. We thank all of the diplomats, their staffs, and the support personnel and volunteers throughout the United States who share America's story. I want especially to call attention to the fact that two of the recipients of awards this year are locally-employed staffers from the diplomatic posts. Their selections help highlight the fact that our diplomatic efforts overseas involve staff from the countries involved. We are indebted to them as well as to their American colleagues."

Public Diplomacy Section, American Embassy Kyiv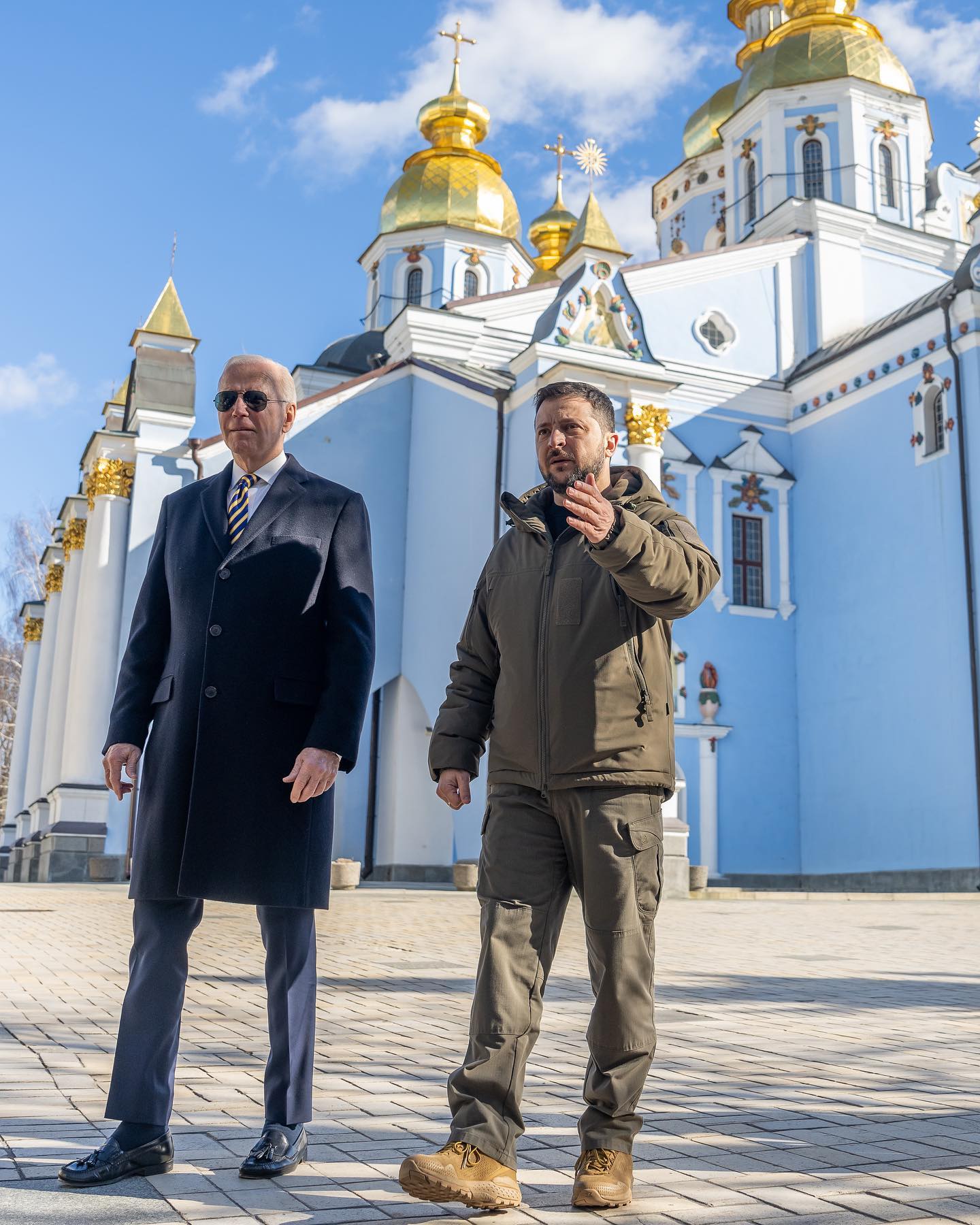 Serving under the most difficult and dangerous circumstances imaginable – a full-fledged land war not seen in Europe in eight decades – the Kyiv embassy's public diplomacy section has carried out an extraordinary range of activities. This includes not just the most immediate daily business of shaping official messaging to support and amplify official American policy in support of Ukraine, but also handling senior USG visits to the country, such as that of President Biden in February. The PD section's work with the traditional press as well as social media has highlighted Russian aggression, Ukrainian resilience, and steadfast American and international support for the country – messaging that has reached both Ukrainian and international audiences.
While this short-term work is critical, the PD section is also deeply engaged in the long game through such activities as supporting media development, civil society, and English teaching, all of which are crucial to Ukraine's post-war recovery and further integration with the West. This long-term programming will help post-war Ukraine rebuild its human capital, strengthen democratic norms, and advance the rule of law, anti-corruption efforts, and government transparency.

Onur Dizdar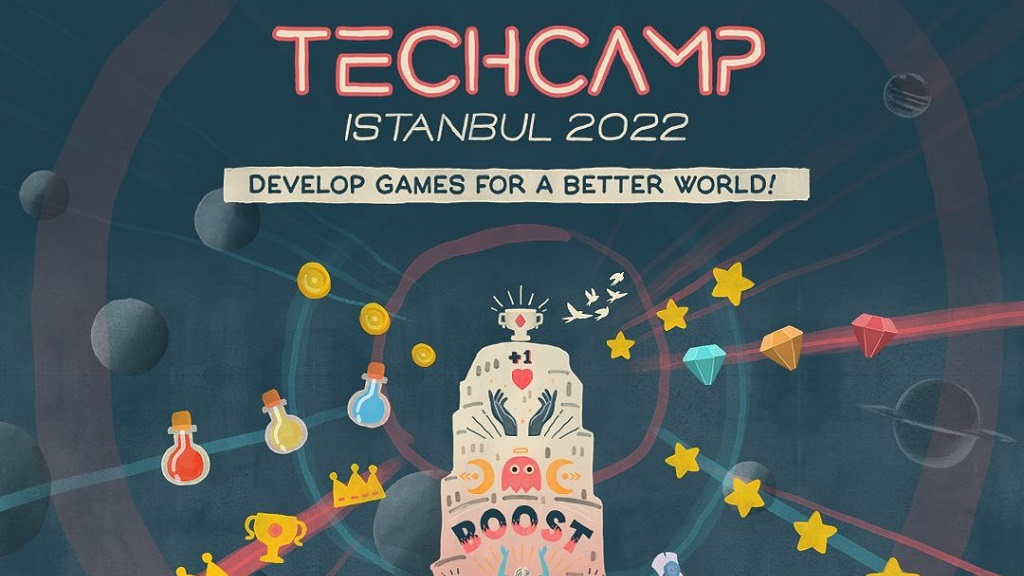 On the other side of the Black Sea, Istanbul Cultural Affairs Assistant Onur Dizdar devised a novel strategy for connecting with Turkish youth, using the field of game development and design to engage this audience "where they are, not where we wish them to be," as the Consulate put it. Taking the lead on this initiative, Dizdar conducted extensive research and met local experts to establish new relationships and strategies with major Turkish players in the gaming field.
Based on this work, Dizdar then developed a multi-pronged public diplomacy strategy to connect with young audiences. One such initiative was conceiving and executing the first ever gaming-related Tech Camp, securing a $100,000 grant from the State Department's Bureau of Educational and Cultural Affairs. After nearly a year of preparation and coordination among multiple partners in both Türkiye and the United States, the three-day event for 60 participants led to dozens of gaming prototypes; six were selected to receive seed money for further development into playable games. All six addressed one of three critical goals for the U.S. Mission in Türkiye – combatting climate change, gender-based violence, or disinformation.

Monica Sarmiento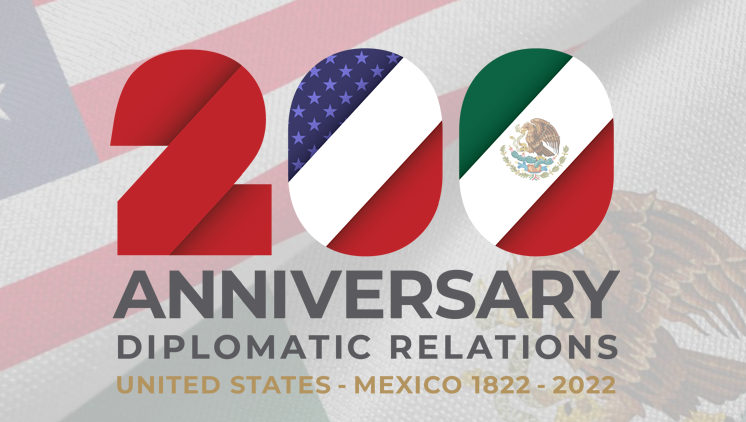 December 2022 marked the 200th anniversary of the establishment of diplomatic relations between the United States and Mexico. To commemorate this bicentennial, Embassy Mexico turned to Monica Sarmiento, a Public Engagement Specialist, to plan and coordinate more than 200 programs marking the occasion. This ambitious celebration of one of the United States' most consequential bilateral relationships involved governmental, business, and academic entities on both sides of the border. Coordinating within the Mission among 36 USG agencies and nine consulates, as well as with Mexican institutions, Sarmiento enlisted cooperation from Mexico's Secretariat of Foreign Relations, American and Mexican businesses, and U.S. universities to carry out a range of programming that highlighted the strong and enduring ties between the two nations.
Among the many tangible results of Sarmiento's work were substantial donations from such companies as Amazon and Dow Chemical to support the American Spaces network in Mexico, as well as commitments from more than 40 U.S. universities and colleges to promote greater opportunities for Mexican students to study in the United States. The overall impact of the bicentennial celebration, shepherded forward with Sarmiento's expert guidance and adroit management, helped advance Embassy Mexico's strategic goals on such key issues as security cooperation, the environment, migration, and economic partnerships.

Tirana's Mobile American Corners Team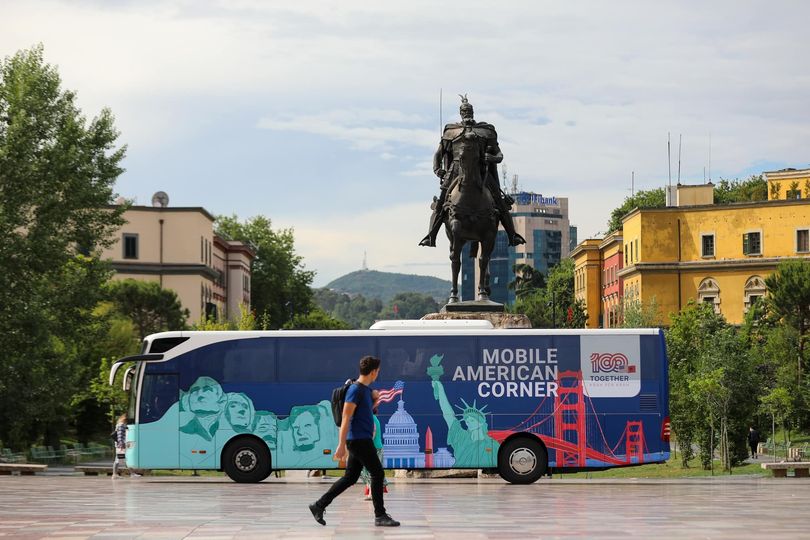 Embassy Tirana's American Corners network covers four urban centers in Albania but is absent in the rural countryside that suffers from lack of economic opportunity, underdevelopment, and mass emigration, all of which negatively impact the country's political and economic development. To reach these underserved areas, the Embassy's public diplomacy team created an innovative way to bring public diplomacy resources there by packaging the most effective American Corner programs, putting it on a U.S.-branded tour bus, and traveling around Albania. Visiting eight cities distant from the existing American Corners, the tour reached more than 4,000 youth.
To ensure that lasting follow-up opportunities and connection with the Embassy would remain in these areas post-visit, the Public Diplomacy team created a digital platform that enables young people ages 14 to 24 to join the Embassy's Digital Youth Network to stay connected with the existing American Corners, as well as with the Embassy's Youth Council and Outdoor Ambassadors groups. The Mobile American Corner is now a yearly project for Tirana's Public Diplomacy Section, and State Department Public Diplomacy Offices are using it as a model for other posts to follow.

Additional Recognitions
In addition to these four winning nominations, the PDCA Awards Committee commended three other nominations for special recognition:
Public Affairs Section of the Venezuela Affairs Unit, based at Embassy Bogota, for its work supporting the U.S. commitment to a democratic transition in Venezuela.
Erica Thibault, Public Affairs Officer, Embassy Tunis, for leading the Public Affairs Section's sustained activities to counter Chinese influence in Tunisia, specifically 5G technology promoted by PRC companies.
Laurence Socha, Public Affairs Officer, Embassy Mogadishu, for his work in the high threat environment of Somalia supporting Embassy messaging on such key issues as counterterrorism and alleviating the humanitarian food crisis.
The four award recipients will be recognized for their achievements at a First Monday Forum in June in which they will participate virtually and make short remote live or pre-recorded presentations about their work.
The Public Diplomacy Council of America honors achievement in U.S. Public Diplomacy through an awards program that recognizes exemplary contributions to the field. Since 1993, PDCA and its predecessor organizations have recognized the outstanding work conducted by members of the Foreign Service, Civil Service, Locally Employed Staff (LES), employees of binational centers and American Corners, and EducationUSA advisers. Past recipients of the Award are listed here.
PDCA invites its members and friends to make tax-deductible contributions that support the awards program. For more information, contact the Awards Committee at awards@publicdiplomacy.org.¤