Jerry (Luis Ricardo) Chirichigno: An Appreciation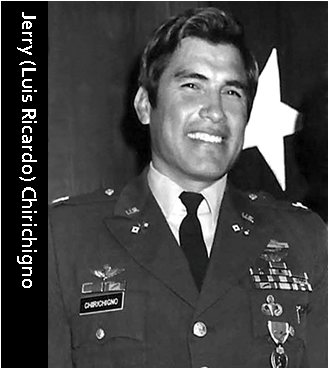 By Robert Chatten
October 2021


A

recent number of the Public Diplomacy Association of America newsletter carried a short "In Memoriam" notice of the death Feb. 3 of retired USIA officer Jerry (Luis Ricardo) Chirichigno, 83, of acute lukemia in Katy, TX. He served in the Agency for 25 years, with overseas assignments including Nigeria, Liberia, India, Turkey, and Venezuela, and post-retirement service in State's Office of African Public Diplomacy.
I had lost touch with Jerry years ago and was saddened at the loss to everyone who knew this vital, extraordinary Peruvian immigrant. That included the Americans and local staffers who knew him in 1975-76 in USIS Colombia (earlier unmentioned). I got to be the first PAO for this mold-breaking nominee for the Congressional Medal of Honor and holder of the Army's Distinguished Service Cross. He was technically a "lateral entry" officer, though we ran him through the learning-the-ropes routines of a junior officer trainee (JOT). These "ropes" did not include developing some sort of relationship with the wife (or "significant other") of a drug dealer. She convinced Jerry of a need to distance herself from her criminal companion and led to his unauthorized use of an office vehicle to take her hundreds of miles north to the border city of Cucuta, where she fled into Venezuela. Our DEA office may have known of this, but I doubt they told the Ambassador. I didn't.
Jerry was born in the Northern Peruvian coastal city of Piura, but the far-flung network of recruiters for the University of Alabama's legendary football coach Paul "Bear" Bryant somehow spotted the natural athlete. On athletic scholarship, Jerry was a kicker on two national championship teams, swam for the Crimson Tide in the off-season, and worshiped Bryant.
After Tuscaloosa, Jerry became a U.S. citizen in 1963 and joined the Army. Lieutenant Chirichigno was wounded in Viet Nam, and, after protracted recuperation, rejoined his unit but was assigned to flight training stateside to learn to fly Cobra helicopter gunships before returning to the war zone.
A variety of references to Jerry's POW story appear on-line but the most complete appeared in the Port Charlotte Sun in April 2007, after he had retired to Florida.
By November 1969, now-Captain Chirichigno was flying with observation helicopters, whose job was to spot enemy activity and call in the gunships. One of the smaller choppers was shot down, and Jerry was flying cover over the crash site, keeping the surrounding Viet Cong at bay, when he too was shot down and injured. Along with those he had been trying to protect, they tried overnight to walk to a Special Forces encampment but were captured and marched, roped together at the neck, to Cambodia and confined in bamboo cages. Jerry's dangling finger from his crash injuries was amputated, and the POWs began a month's trek toward Hanoi. After being turned over to the North Vietnamese Army, he and the other men began two years-plus of confinement in the infamous Hanoi Hilton, a prison left over from French colonial times, whose occupants previously had included mainly political prisoners. Despite its reputation as a torture site and U.S. bombing of Hanoi, Jerry told me in Colombia that his transfer from VC custody to the prison probably saved his life.
The prisoners were released in batches after the Paris Peace Accords were signed on January 27, 1973, with Jerry in the last group released, two months later. Each was assigned an officer escort en route back to U.S. medical evaluation/treatment and, from his, Jerry learned that he had been nominated for the Congressional Medal. He had also been listed as killed in action, the reason his wife wasn't in Hawaii to welcome the POWs at the stopover, as some other spouses were.
The recent POWs were honored at a State Department banquet and reception hosted by Secretary Henry Kissinger and attended by President Nixon. Kissinger asked Jerry to get back in touch about what he would like to do next after what turned out to be the two years he spent in recovery. Based on accounts about USIA he heard from a former VOA transmitter supervisor while they were imprisoned together in Hanoi, Jerry said he'd like to try the Information Agency.
Which brought him full circle to Bogotá, our all-too-short friendship, and more than two ensuing decades of his telling America's story to the world, and living it.¤
Robert Chatten is a former President of the Public Diplomacy Association of America.