Linda Jewell -- An Appreciation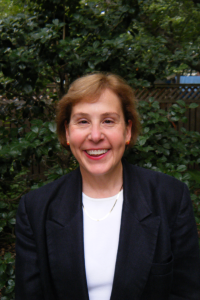 Jazz Piano Christmas, an annual popular feature in the Kennedy Center's jazz concert series, won't be the same this year.
One of the last conversations I had with Linda confirmed that come December 7, as in years gone by, we'd again go to the Christmas program together. She wanted to know if, while she was buying tickets for herself and husband John Walsh, I had any recommendations for other, later concerts. I said we liked a French group, the Django Festival Allstars, and we left it at that for the time being, pending arrangements for a pre-concert dinner we'd enjoyed together before.
Linda died Monday morning in Washington Hospital Center at the age of 66, a week after returning from France when the cancer she had been fighting since May flared up again, obviously metastatic. She had never been sick before and her only hospitalizations had been for the birth of their two children, now adults. On one of those occasions in Washington, with her parents not yet arrived from Little Rock, Linda, with a new baby, asked Pat Chatten to ferry her home from the hospital with the new addition. Later, she had been the one to sit with me while surgeons were attending Pat. When I was diagnosed with prostate cancer but had to wait two months to schedule surgery at Johns Hopkins, it seemed logical to change that depressing subject and wait it out with old friends in Costa Rica, where she was DCM/Chargé d'Affaires.
We met in the spring of 1983 when I fell ill on a Senior Seminar trip to Mexico and the ten USIS American staffers in Mexico City, including economics program officer Linda and press officer John, visited me in the hospital, for an eccentric introduction to the guy assigned to become their PAO that summer. It was Linda's second overseas tour, after Indonesia, and John's third, and we got to know each other quickly and well. It was soon apparent that Linda was a star, bringing just the right Mexican government and academic leaders together with just the right American visitors, combining work ethic, program sensitivities, and the personal touch necessary to access Mexican personalities and sensitivities.
On the personal front, our music tastes meshed, spending time with a contact of mine, host of a popular pop and jazz radio program.
As the years passed, we stayed close, and though often worlds apart physically, we found ways to intersect. Pat and I landed on Linda and John in India, where they organized the most memorable of trips, east in the Himalayas to once-independent Sikkim and west to stay in former Maharajah palaces in Jodhpur, Jaipur, and Udaipur, places either they had been (west) or were forbidden as diplomats to visit (east). Linda followed me as USIA Latin America Area Director, three times removed, and I tracked down a half dozen former Area Directors for a dinner/reception at our house to celebrate her new job. Come the 1999 demise of USIA, she was integrated into State's ARA Bureau, ultimately as a Deputy Assistant Secretary and then as Ambassador to Ecuador, where I had served my first PAO assignment. On a visit to them there, she delighted some of my former contacts with invitations to The Residence, one of whom ran a popular radio station and had been jailed for his irreverent attitude toward the government. I had sent him north on an international visitor grant and bought 50 copies of his book on the U.S., USA Mas o Menos.
One of my post-USIA gigs took me as a USAID contractor to wintery Moldova in the former USSR and its early efforts to privatize its economy. Coming down from those adventures, I headed for home via Warsaw on Air Moldova for R and R with Linda and John, where he was "culture" in the USIS shop and she was "information" and part-time acting PAO in the Baltics. On a day when weather closed every airport in Europe, Air Moldova pilots either didn't get the word or took it as a challenge to their masculinity. I was not surprised to find Linda and John at the airport to welcome me.
Two stories illuminate for me the Linda I knew and loved:
As a Foreign Service Officer with public diplomacy in her genes, the Ambassador to Quito tasked every member of her country team to have regular personal interaction with their Ecuadoran contacts. And in what became an important way in which she was known both personally and professionally, Ecuadorans saw her as the first American Ambassador in memory to visit every province in the country.
And in retirement, she volunteered to advise undocumented immigrants on where to find help for their predicaments because, "I didn't want to just stay mad all the time."
Robert Chatten
November 20, 2019