Lebanon's Virtual Public Diplomacy Cements Connections, by Fidaa AlFakih and Raisa Dukas
By Fidaa AlFakih and Raisa Dukas

Traditional public diplomacy practices were upended by the COVID-19 pandemic, at a time when—arguably—outreach and connections were more critical than ever. As the world retreated to their homes, it was imperative to grasp the adage of "meeting people where they are" by pivoting to virtual engagement. U.S. Embassy Beirut did exactly this by shifting our strategic planning to virtual public diplomacy.

The change was not easy. With economic collapse, political instability and deplorable electricity and internet infrastructure, we faced a multitude of challenges in order to create common spaces for programming. Through creative programming and innovative uses of funding, we not only maintained existing relationships, but also managed to cultivate new relationships with diverse stakeholders. This included partnering with other U.S. missions in the Middle East, sharing resources and working together on bureau- and Department-wide strategic goals. In the end, our move to virtual allowed us to reach uncharted areas and opened our eyes to new models for the post-pandemic public diplomacy future.

Connecting through food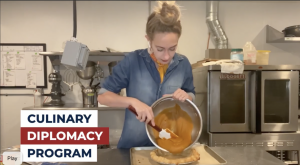 One of the earliest virtual programs we hosted focused on food diplomacy, drawing on a newfound fervor for eating local and gardening that emerged with the pandemic's lockdowns. Along with PAS Abu Dhabi and Muscat, PAS Beirut worked with State's Arts Envoy program to host a five-week virtual culinary program by renowned American pastry chef, Angela Garbacz, to share tasty recipes, discuss food entrepreneurship, and spur food sector innovation. Through weekly live virtual sessions, pre-recorded materials, and social media exchanges, participants learned to manage a small business and overcome barriers in a fast-moving and competitive market. The program concluded with a virtual Thanksgiving dinner with Ambassador Dorothy Shea via Zoom, allowing Lebanese participants to share a pre-delivered meal.

As a follow-on, Embassy Beirut funded a virtual culinary entrepreneurship program aimed at teaching Lebanese and Syrian refugee women in rural areas about Lebanese and U.S. pastry and food entrepreneurship. Operated by a local NGO, this program successfully reached its goal of reducing tensions between the two groups. This opportunity also showed how mutual interests can reduce broader prejudice. In fact, some participants even established a joint venture focused on ethnic dishes made with locally sourced products.

Most importantly, these two initiatives provided knowledge-based tools to develop solid business plans based on best practices from the United States. Not only did the Embassy build meaningful relationships with new audiences in?remote parts of Lebanon, but the programs also achieved important inroads to sharing American values with groups known to harbor anti-American sentiments. While both programs have formally ended, participants continue to share their culinary triumphs via social media and remain followers of the Embassy and its content.

Building on Success
While virtual programs proliferated in part due to COVID-19, the Embassy began exploring relationship-driven programming as a means of reaching more remote audiences. PAS Beirut used the culinary programming experiences to launch several other virtual programs, including a project on fashion entrepreneurship, inclusive political and civic engagement discussions, and a film club for science and technology aficionados. We effectively proved that virtual engagement is a viable, long-term tool — and arguably one of the best tools — for overcoming geographic isolation and bringing together diverse audiences on a specific policy or theme.

So, while we may all have some form of "Zoom fatigue," we should add virtual outreach to our public engagement toolboxes and our strategic plans.



Fidaa AlFakih is a Locally Employed Staff member of the Public Affairs Section in the U.S. Embassy Beirut, where he manages alumni affairs and the American Spaces. Raisa Dukas is a Foreign Service Officer who served as the Cultural Affairs Officer at U.S. Embassy Beirut from 2019-2021.