Strengthening America's Dialogue with the World
The Public Diplomacy Council of America is a nonprofit 501(c)(3) association of professionals and scholars promoting excellence in the professional practice, academic study, and advocacy for public diplomacy.
Our work
Honors practitioners' achievements;
Helps members stay in touch and keep current with issues and new developments in global communications;
Mentors and trains professionals in this rapidly changing field;
Promotes understanding of the increasingly important public dimension of statecraft and;
Generates support for America's global engagement.
Latest News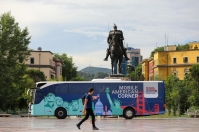 PDCA will present programs on June 5 and 12 to help you get to know the recipients of this year's Awards for Excellence in Public Diplomacy. Both programs will be presented via Zoom...
Ambassador Kenneth Quinn was the speaker at the May First Monday Forum
View All
Member Views
Will China's huge investments in media and culture take away the United States' edge in "soft power?" Hear from one expert on the topic.
Authoritarian governments and artificial intelligence are darkening the outlook for free expression, Reporters Without Borders says. Where does the United States rank on freedom of...
The State Department's Office of Space Affairs places a premium on public diplomacy.
View All